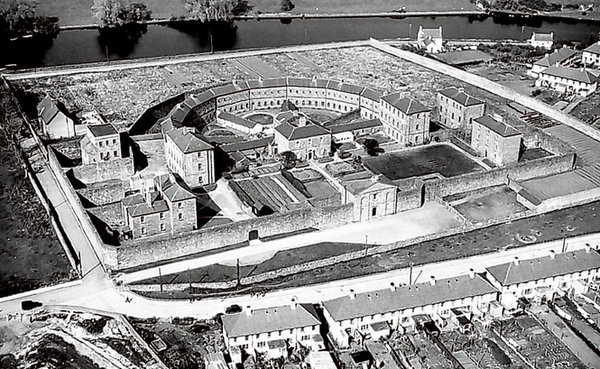 An event celebrating the History of Sligo Gaol from 1815 – 1956
Posted on: September 24, 2015
On Wednesday 23rd September 2015, Co. Sligo Heritage and Genealogy Centre participated in an event celebrating the history of Sligo Gaol from 1815 – 1956 in the Hawkswell Theatre. The event was co-organised by The Hawkswell Theatre group, Co. Sligo Heritage and Genealogy Society and the  Friends of Sligo Gaol  group .
At the event, CSHGS hosted an information stand whereby visitors could come and talk with staff about the services provided by the Centre and also gain knowledge and advice on how to carry out genealogical research.
The Friends of Sligo Gaol group also had a stand in which they displayed keys, locks and other interesting items from the Gaol. A stunning aerial view image of the Gaol prior to its closure in 1956 was also exhibited.
Guest speakers on the night included  Siobhan Ryan, Heritage Officer with Sligo County Council, who gave a lecture focusing on the built heritage of the Gaol.
This  was followed by Michael Farry, Historian, who delivered  an enthralling account of many well known prisoners who served parts of their custodial sentence within the walls of Sligo Gaol.
After this, Dan Scannell, former Director of Castlerea Prison detailed the day to day life of a typical prisoner in Sligo Gaol at that time.
The final speaker was Bob Kelly of the Hawkswell Theatre group, who outlined plans for a 2016 project to gather stories and information from Sligo people about what they remember from the Gaol and to make it into a play.
The evening concluded with a question and answers session.
Over 150 people attended the event which showcased some unique aspects of Sligo's rich heritage.