A selection of gifts from Sligoroots.com
Posted on: November 22, 2017
We have a number of items for sale with a special connection to County Sligo. Below we have highlighted a selection from our online shop which would make ideal Christmas gifts.
Some of these include:
1: County Sligo in 1837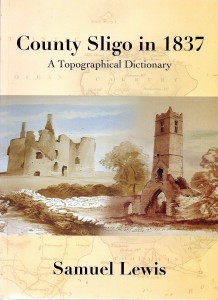 This volume is a compilation of the extracts pertaining to County Sligo from "A Topographical Dictionary of Ireland" by Samuel Lewis, which was published in 1837.  It contains detailed descriptions of the Towns, Villages, and Parishes of County Sligo in 1837 and is regarded as the most comprehensive description of the county in pre Famine times.
The book contains statistics from the 1831 census as well as detailed information on antiquities and history, agriculture and industry, public building, churches and schools in addition to the seats of the nobility.
In addition to the text, copies of a number of very rare prints and drawings have been included, along with a list of the names of the 126 County subscribers – one hundred and twenty six of whom relate to County Sligo – have been extracted and reprinted.
This book is on sale for €9.
2:  A Yank in the Old Country – My Adventure in Ireland   
"A Yank in the Old Country" tells the story of John Killoran, the son of Irish Emigrants, who left his New York home in the 1940's, aged 11, to go and live in a thatched cottage in Ireland with his Sligo Grandmother and Aunt for two years.
At the time, John and his brother Hubert were the youngest children to fly across the Atlantic Ocean unescorted.
This is the story of their unique adventure in a country far different from the New York they left behind.
This book is on sale for €14.
3: Land of Heart's Desire: Sligo 2018 Calendar  
This Calendar contains a beautiful collection of high quality photos by Ulrike Schwier showing Sligo's iconic mountains Benbulben and Knocknarea, along with Benwiskin Mountain and landscapes like the Glencar Waterfall, Mullaghmore Peninsula, the Gleniff Horse Shoe, Ballyconnell in Maugherow,  Inishmurray Island, Lough Gill and the Garavogue River in Doorly Park.
The Calendar is printed, stitched and has a hole for hanging. Its A4 size folds out into A3 when hung up. Front and back are glossy laminated. The Calendar has the Irish holidays and moon phases marked.
This would make an ideal Christmas gift and is currently on sale for €12.