Posted on : September 24, 2015
On Wednesday 23rd September 2015, Co. Sligo Heritage and Genealogy Centre participated in an event celebrating the history of Sligo Gaol from 1815 – 1956 in the Hawkswell Theatre. The event was co-organised by The Hawkswell...
Read More
Posted on : August 26, 2015
On Tuesday the 25th August CSHGS held our annual event as part of the Heritage Week Celebrations 2015. This year, the theme chosen by the Society was the Schools Folklore Collection 1837 – 1839. This extensive collection of work includes...
Read More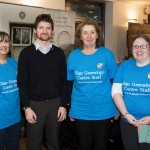 Posted on : June 19, 2015
''The Way We Were'' Heritage evening took place in The Hawks Well Theatre on the 20th May 2015. The event celebrated Sligo's rich history and through the guest speakers provided a unique insight into aspects of life for the people of...
Read More
Posted on : April 16, 2015
On the 4th of April 2015, Rose Marie Stanley along with her husband Terry led a Famine Trail Commemoration Walk from the townland of Cross near Keash in County Sligo to Sligo Port.  Rose Marie is a 5th  generation...
Read More