Posted on : August 11, 2016
County Sligo Heritage & Genealogy Centre were delighted to take part in the Old Fair Day in Tubbercurry, Co. Sligo. This is the 31st year of this very popular festival which took place from the 6th to 10th August.t. Alongside...
Read More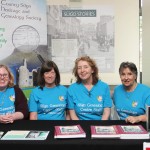 Posted on : July 28, 2016
''The Way We Were'' Heritage evening took place in The Hawks Well Theatre on the 27th July.  The event celebrated Sligo's rich history and through the guest speakers provided a unique insight into aspects...
Read More
Posted on : June 30, 2016
National Heritage Week, Ireland's annual celebration of built, natural and cultural heritage, will take place from 20 to 28 August 2016.  This years theme is "People and Place: 100 years of heritage".   The organisers are...
Read More
Posted on : June 15, 2016
The Egan / Keegan Clan are holding a Clan Rally featuring locations associated with the 1916 Rising. The rally will take place in Dublin  from Mon 27 June...
Read More