Posted on : December 2, 2016
County Sligo Heritage and Genealogy Society recently added more than 3,000 civil marriage records to its online database on the Roots Ireland website. The new records date back as far as 1864 and cover three registrar districts up until the...
Read More
Posted on : November 23, 2016
This is an ideal time for researching your County Sligo Ancestry. Roots Ireland are offering one third off a 12 Months Subscription for a limited time. Get a 12 months subscription with 33 per...
Read More
Posted on : October 6, 2016
Land of Heart's Desire: Sligo 2017 Calendar We have a range of items available in our online shop which would make an ideal gift. One of these is the
Read More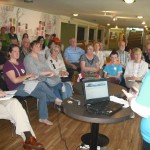 Posted on : August 24, 2016
Tracing your roots presentation On Tuesday 23rd of August 2016, County Sligo Heritage & Genealogy Society hosted "A Beginner's guide to tracing your Family tree" as part of the...
Read More