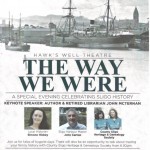 Posted on : April 26, 2017
The Way We Were will take place in the Hawks Well theatre on 14th June.  This is the third year of this special evening celebrating Sligo's history. Join keynote speaker, author and retired librarian, John McTernan, local...
Read More
Posted on : April 18, 2017
The Kaveney family were tenants of Lord Palmerston and became the first group of his 'Assisted Emigrants' to leave Sligo in 1847 for Quebec. They left Sligo port along with twenty eight other families from the area on the 5th of...
Read More
Posted on : March 15, 2017
A new search function has been added to the Roots Ireland website.  Subscribers can now search using baptismal sponsors', marriage witnesses' or burial informants' names   See  
Read More
Posted on : December 21, 2016
County Sligo Heritage and Genealogy Society recently added more than 2,000 civil marriage records to its online database on the Roots Ireland website. The new records date back as far as 1864 and cover two registrar districts up until the late...
Read More