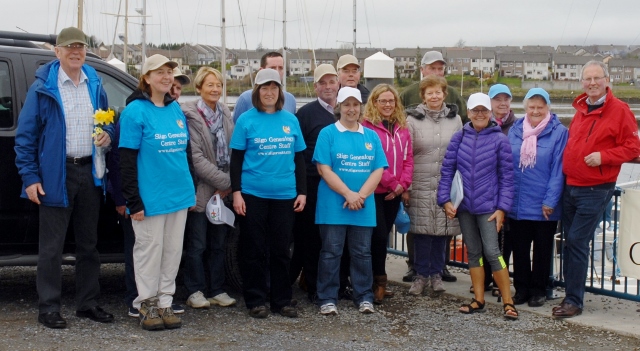 Kaveney Family Famine Trail Commemoration Walk
Posted on: April 16, 2015
On the 4th of April 2015, Rose Marie Stanley along with her husband Terry led a Famine Trail Commemoration Walk from the townland of Cross near Keash in County Sligo to Sligo Port.  Rose Marie is a 5th  generation descendent of Patrick and Sarah Kaveney, who with their six children did this same walk on the 4th April 1847, when as famine victims they left Ireland in the hope of a better life in Canada.
They were joined on their twenty one mile journey by Theresa Finnegan, Clare O'Connell and Teresa Eakins of Co. Sligo Heritage & Genealogy Centre, members of the Mullaghmore and Cliffoney Historical Society and descendants of different branches of the Kaveney family, all of whom undertook the walk in memory of Patrick and Sarah and their six children, and all those who sailed with them to Canada on the ill-fated 'Carricks' in April 1847.
Patrick and Sarah Kaveney were tenants of Lord Palmerston and became the first group of his 'Assisted Emigrants' to leave Sligo in 1847 for Quebec. They left Sligo port along with twenty eight other families from the area on the 5th of April 1847.
Just over three weeks after leaving Sligo, these emigrants entered the Gulf of St. Lawrence and were in sight of the Canadian coast when the ship was caught in a snow storm and crashed into the notorious Cap des Rosiers. Only forty eight passengers survived.
Patrick and Sarah along with their son Martin were among the survivors; but tragically their five daughters were drowned. The heart broken couple set up home in Jersey Cove and had four more children with the family surname becoming known as Kavanagh in Canada.
The walk in their memory started at the old Kaveney homestead in Cross on Easter Saturday and proceeded through Ballymote, Collooney, Ballisodare and then on to Sligo Port where a short ceremony of remembrance took place at the Quays, from where the Carricks would have set sail on its final journey. During the short ceremony, Rose Marie laid five daffodils in the water to remember the five Kaveney daughters who were lost. Afterwards the walkers were received by the Mayor of Sligo, Cllr Tom MacSharry, at a reception at City Hall.
It is only in recent years, with the help of Co. Sligo Heritage & Genealogy Centre and Mullaghmore and Cliffoney Historical Society that the family was able to trace their Sligo roots and reconnect with many long lost relatives.  In May of this year, members of another branch of the Kavanagh family will visit Sligo.