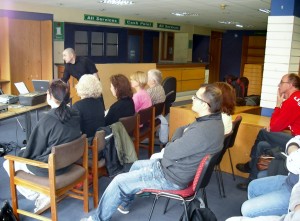 Heritage Week event to preserve memories a success
Posted on: August 31, 2012
Heritage preservation and sharing ones own personal heriatge were the themes of two simultaneous events hosted by County Heritage & Genealogy Centre during Heritage Week 2012.
One event was a presentation taught by professional photographer and tutor John Coen who shared with two groups how to digitally scan and preserve old photographs using ordinary home computer printers, that now have this capability.  Participants learned how easy it can be to preserve treasured family photographs for generations to come.
The other aspect to our Heritage Week events was collecting oral histories from several County Sligo individuals who shared their memories of school days.  In this pilot project, which the centre hopes to expand, each participant was interviewed and recorded.  Transcriptions are now being made from the recordings and when completed, will be available in our archives for the public to read or to listen to on CD.  A podcast will also soon be made available through our website.
Many thanks to the County Sligo Heritage Department and the Heritage Council for their support, and to all the participants.