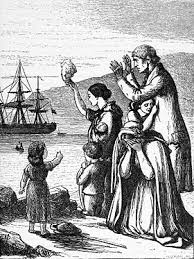 A glimpse into Emigration from Sligo Port
Posted on: August 29, 2018
Our new film on emigration is up and running. This video presentation depicts the history of passenger travel and emigration from the port of Sligo throughout the 1800s and demonstrates Sligo's importance as a point of departure for thousands of people who left the west of Ireland during the period of mass emigration, prior to and following the Famine years.
This production is likely to be of interest to those with Irish ancestry, wishing to find out more about the history of trans Atlantic emigration. It will also appeal to those travelling the increasingly popular Wild Atlantic Way driving route.
The fifteen minute feature is available to view on request in County Sligo Heritage & Genealogy Centre, Temple Street, Sligo.