Posted on : November 22, 2017
We have a number of items for sale with a special connection to County Sligo. Below we have highlighted a selection from our online shop which would make ideal Christmas gifts. Some of these...
Read More
Posted on : August 18, 2017
On the 15th August 2017, US Democratic Congressman Brendan Boyle and his brother Kevin,  a member of the US House of Representatives, were welcomed by the community of Easkey in County Sligo, to the village, where their maternal grandparents...
Read More
Posted on : August 16, 2017
Date: Tuesday 22 August   Time: 2.30 to 4.30 Venue: County Sligo Heritage & Genealogy Centre , Aras Reddan, Temple Street, Sligo  We will host...
Read More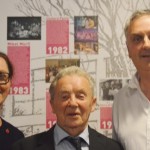 Posted on : June 15, 2017
The Way We Were     
Read More